7 EASY STEPS FOR HOW TO HANG YOUR PHOTO WALL ART!
Be inspired to create your very own photo wall collage and transform your house into a home! 
If you're tired of looking at boring blank walls in your home, fill the blanks with your photos and showcase your memories. At VMWK it's so easy to order your customised photo prints – just three quick decisions to make. Simply style it, upload your photos, then hang it with VMWK's My Family Photos. Too hard to choose your favorite photos? Then select an artwork from our range of stunning ready to hang Wall Art Sets. It's your choice. But, I hear you ask, what is the best way to decide which of your photos will suit a photo wall collage? Or how do you select the best collage artwork for your space? To best complement your home and your style, focus on a cohesive narrative which "tells the story" of your personal photos, or select a theme (which could be based on color or content) of an artwork which appeals to you.
Once you have decided on what type of photo wall art you would like to feature in your home, there's a few more decisions that need to be made. Big wall surfaces can handle significant collections of photographs, frames, and art. Single small pictures on empty walls look unappealing. It's better to create impressive collages by grouping photo prints and wall art and arranging them symmetrically or in a creative and unusual way. So, what are the 7 most important steps to consider for ordering your wall art and knowing how to hang it properly in your home? 
Where? – Photo Walls can go anywhere! Behind a sofa, couch or console table, an entry hall, your bedroom wall, kitchen, dining area, staircase, above a desk, a mantlepiece, anywhere there's a blank wall! Photo blocks can even stand on a bookshelf or table! You are limited only by your imagination (and the number of photos you have!)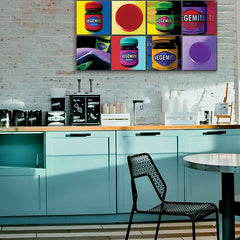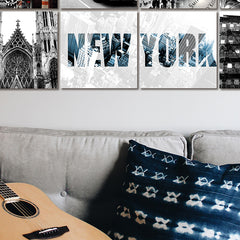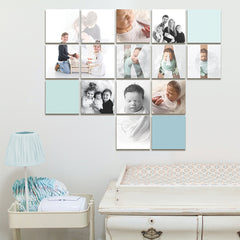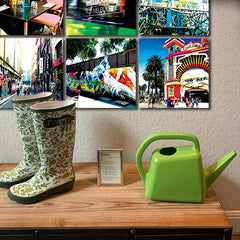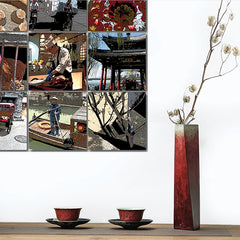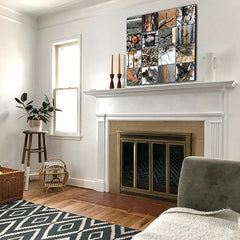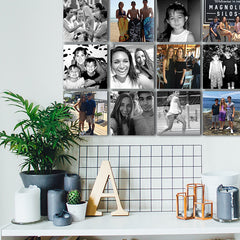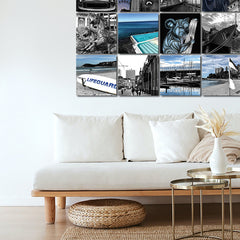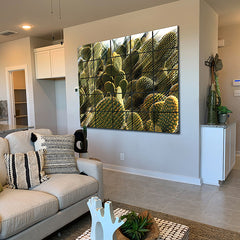 Size – One of the key considerations is choosing the right size artwork for the space. Keep your wall art proportionate to your room. Ideally, your furniture should frame the wall space that you will be hanging your artwork on and the furniture piece will be slightly longer than the wall art on either side. You should aim to hang wall art that is two-thirds its length. VMWK photo blocks are square and available in either 15cm x 15cm (6 inch x 6 inch) or 20cm x 20cm (8 inch x 8 inch) making it easy to select the number of blocks needed for the length and height of the space available.
Placement – When using furniture to frame art, it's vital to ensure the artwork is centred horizontally using the width of the furniture as your ruler. When hanging above a piece of furniture, be sure there are 15-20cm of space between the bottom of your art and the top of the furniture, which is exactly the size of our photo blocks making it an easy way to measure the space needed (because you don't want someone's head hitting your art when they sit on the couch!). If there isn't enough space, the art is too large. Placement is all about creating balance, whether your artwork is arranged symmetrically or asymmetrically, and by creating negative space. It's also important to hang your artwork centred at eye level (read our tips for calculating height coming up).

Scale – Symmetry needs careful planning (or you could leave it to professional designers such as those at VMWK to do it for you). It also means ensuring there is an even balance and that the combined total width and depth of the prints work well on a blank wall space or above a piece of furniture. No matter how many pieces there are, treat them as one whole piece. To hang a group of 4 pictures for example, consider hanging it as one entire square, adjusting for the provision of spaces between each piece (more on that later!). Then place pictures so that the centre point of the piece or grouping is at approximately eye level depending on the vantage point you will be viewing the artwork from. (Hint: for dining room wall art hanging height is best slightly lower, to enjoy looking at it most while you are sitting down). 
Height – Generally, the formula for hanging an artwork is centred within the space (this may or may not be at eye level for everyone but that's ok because everyone is different). Hang the art so it is between 145cm (57 inches) to 153cm (60 inches) off the ground. This puts it at the average person's eye level. 
Layout – Layout arrangement can depend on where you are intending to hang your wall art. If you are hanging photo blocks beside a staircase, for example, you will need to work on a diagonal angle following the floor level as opposed to a horizontal behind a piece of furniture. You don't always have to work on an even number of pieces in your photo collage. You could consider mixing up the sizes of each piece for an asymmetrical arrangement or including an odd number of pieces. 
The idea of a gallery wall can be quite daunting due to the misconception that putting one together is very difficult or that it won't be an aesthetically pleasing arrangement. However, hanging one of these doesn't have to take that much extra effort. Cut the squares out of paper and arrange them on the floor or hang them on the wall with tape.
What is important when hanging these prints is precision. If you decide you like the look of your gallery wall with spaces between each piece, get out your pencil and ruler and make sure you get those measurements between exactly right. We recommend 0.5-1cm (0.2-0.4 inches) as a good rule of thumb for layout between our individual blocks or according to your own personal preference and space. An easy tip for ensuring each space between blocks is identical is to use a spare piece of cardboard, wood, a pencil or even a tile grout divider (if you happen to have any spare lying around) as your measuring stick guaranteeing uniform and precise spacing. Or you may choose to have each piece directly next to each other. 
FYI – our crafty customers have pointed out that some hand paper towel squares have proved to be a nearly exact size for our 20 cm x 20 cm (8 inch x 8 inch) blocks which makes it easy to tear squares off the roll and stick to the wall for laying out your placement! What a clever tip!
For more Gallery Wall ideas and layouts, be inspired by more interior design gallery wall ideas. 
For those a little more unconventional personalities who prefer to break the symmetry rules, think about getting creative with asymmetrical layouts. There are no hard and fast rules to creating these layouts and often it's the more blocks the better! Asymmetrical or irregular displays can look amazing when there are many pieces of different sizes competing for attention or by irregular arrangement of odd numbers of the same size blocks. The difference lies in how you start. Once you've collected all the pieces, decide on the arrangement. Do this on the floor rather than on the wall so you can easily make changes. Choose a centre item first and then build your layout around it. If you prefer fewer prints, go for a symmetrical display instead. 
Don't forget you could also add accessories to your chosen layouts. Items such as plants, decorations, decals and text can really accentuate the narrative and pick up on your chosen theme. Why not think about adding décor from one of our fave stores Home Art Stickers with their 3D gallery wall quotes available on Etsy.
How – For how to hang art without using power tools or making holes in your walls, we recommend Command 3M stickers! Check out their website for great tips on picture hanging with 3M products.
---
Also in News
Do you love to travel? One of our favorite ways to be inspired for design is by travelling and capturing pics of our beautiful world. While Facebook has been teasing us with trips down Holiday Road (we love the memories that pop up each day!) and we've been able to turn to travel shows, films, and virtual experiences this year to keep wanderlust at bay, there's simply nothing like the real thing! Find out how you can enjoy, relive, and share your favorite travel memories with our Travel Series Wall Art!
Elevate your spaces from "blah" to "WOW" with wall art prints from VMWK! Wall art provides a focal point for your room & is the perfect finishing touch for your decor. At VMWK we feature two distinct ranges of wall art, one based on your personal photos and another of professionally designed photo collage artworks. Get all the information you need on our range of wall art, from material choices and sizes available, to how to order, hang and display your blocks! Join our blog for the tips and tricks to get your VMWK wall art looking great!